The OSET 20.0 Racing is a competition dominating machine for 8 year old's up to adults
The 20.0 Racing is the machine of choice for riders interested in competing & ultimate performance and is often the bike that riders and parents choose to enter the world of trial competitions. The power and response can be adjusted for any riding style, while the fully adjustable suspension can be set up to suit rider weights and preferences - this bike is loved by kids and adults alike for its sheer versatility and fun.
The OSET 20.0 R is recognised globally as one of the best beginner dirt / trial bikes for children to learn and improve their motorbike skills and being electric they have no hot parts, require no petrol, produce no fumes and are virtually silent, meaning riders can use them everyday in places other bikes cannot go
Key Features: 
A strong frame, thin grips, a padded chin guard covering the steering stem combined with a magnetic lanyard cut-out switch ensure safety is the priority.
Separate key switch is easily removable by the parent when it's time to take a break!

Exclusive OSET wide rear rim and 3" wide deep tread competition motorcycle tyre

Alloy swingarm, alloy sprocket carrier and sprocket for lighter weight and easy gearing changes.

OSET controller with our exclusive '3 dial' system, which allows parents to easily adjust the power, speed and response characteristics of the bike.
It can be set from a very mellow machine at walking pace and low power, all the way up to a competition level machine with maximum power. 
For riders aged 8+
RRP: £2,379.00
The OSET is just the best thing my son has had! He has the freedom of the outdoors and quality time with his dad away from technology. My 9 year old has the 20.0 R so his dad had to go out and get the 24.0 R - Katrina Meed, California, USA 
The OSET 20.0 Racing continues to dominate at National Trials events - against petrol powered machines. OSET bikes has dominated the Youth 'D' Class National Trials Championship, taking all the top places every year for the last five years and making up almost the entire entry.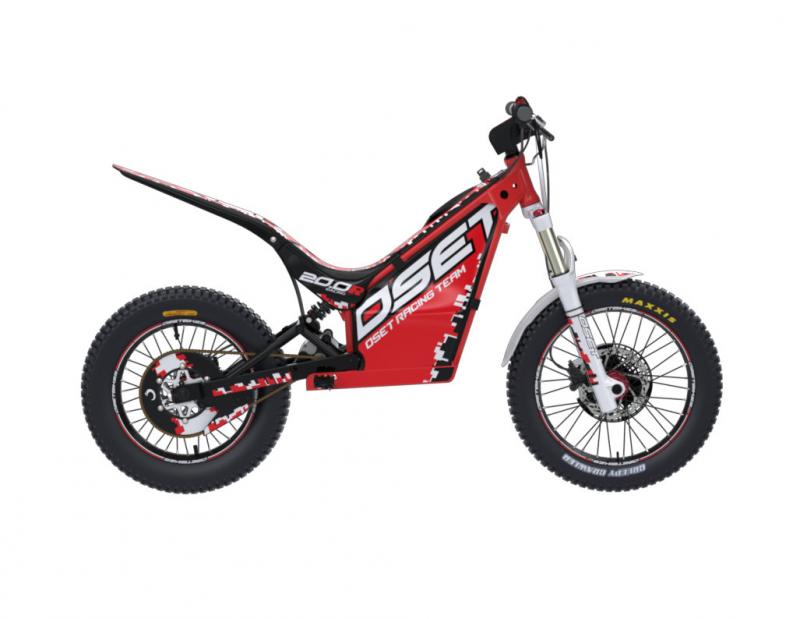 Technical data
| | |
| --- | --- |
| Wheelbase - 1050mm (41.3'') | Seat Height - 550mm (21.6'') |
| Ground Clearance - 290mm (11.4'') | Handlebar Height - 980mm (38.6'') |
| Wheels - 19'' front alloy rim/hub. 14'' competition rear alloy rim/hub | Suspension - Front telescopic air fork. Rear shock, preload adjustable & oil dampened. |
| Brakes - Front 180mm & rear 160mm hydraulic disc. | Motor - 1200W 48V OSET neodymium magnet DC motor. |
| Controller - 48V OSET, adjustable for power, speed & response. | Batteries - 4 x 10ah AGM SLA. |
| Charger - 3 amp 48V. | Age Range - 8+ years old. |
| Rider Weight Limit - 100lbs (45.5kg) | RRP - £2,379.00 |
Find your nearest dealer
OSET Worldwide
Would you prefer to view a localised version of our site?
When you choose this option, you agree that we can place a small cookie on your device, to determine your choice at a later date, no personally identifiable data is stored.
Or you can view our full list of importers here
Global Importers
or click below to