The OSET MX-10 Mini Dirt Bike is the ultimate electric bike for off-road adrenaline for all ages 
The OSET MX-10 (adult version) has been adapted from our best selling MX-10 for all the big kids out there who want the thrills and excitement of one of the best electric dirt bikes on the market. To cater for adult riders the MX-10 (adult version) has a stronger rear spring and 20" bars meaning it can comfortably take riders up to 90.0 kg - This is a serious mini bike with a motocross soul!
*** Winner of the 2018 MiniBike Supercross Championship 88cc class*** 
Key Features: 
Powerful OSET motor, controller and OSET 20ah lithium battery, designed to work in unison on this machine

A 48v OSET drive system (complete with 3-dial adjustability) 

Custom upside-down fork built to OSET's specifications and an adjustable oil shock at the rear

Hydraulic disc brakes to provide plenty of stopping power

Electric power means no kick start 

No hot exhaust, so no more scorches 

Virtually silent so can be used where petrol bikes can not! 

Fitted with a stronger rear spring and 20" bars compared to the MX-10 Youth Version

For adults and teenagers - up to 90.0 kg

Sale price: £2,499.00 - Currently £300 off in the UK (Original RRP £2,799)
After my first race win I was on cloud 9 – I couldn't believe it! Then, I knew it was on! I'm absolutely over the moon with the weekend, and with the MX-10. What a bike!" - Connor Ward, Winner of the 2018 MiniBike Supercross Championship 88cc class on the MX-10
As electric motorcycles and dirt bikes continue to change the face of riding the MX-10 mini dirt bike has been designed for one thing only...FUN!!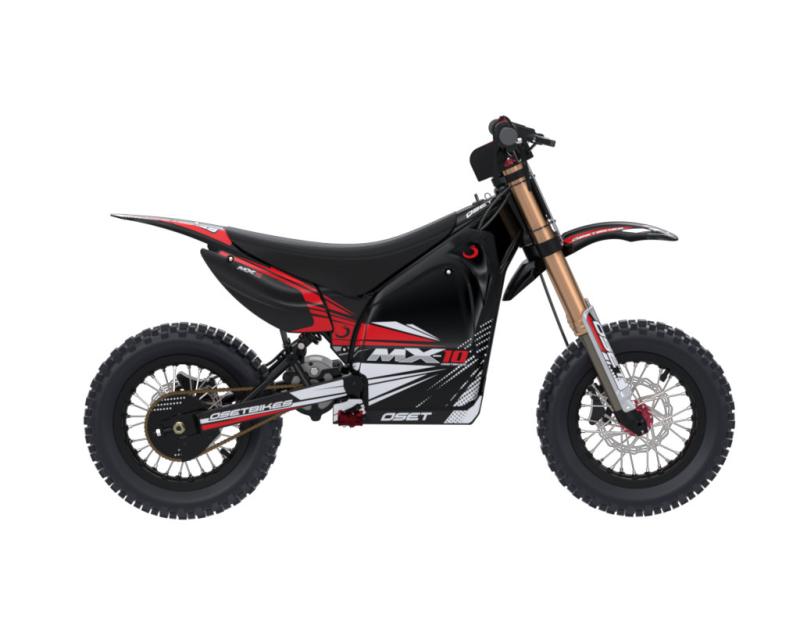 Technical data
Wheelbase - 940mm (37.0'')
Seat Height - Adjustable, 3 settings. 515 - 550mm (20.3 - 21.7'')
Ground Clearance - Adjustable, 3 settings. 170 - 200mm (6.7 – 7.9'')
Handlebar Height - Adjustable, 3 settings. 805 - 815mm (31.7 – 32.1'')
Wheels - 10'' x 1.60'' front & rear alloy hub/rims
Suspension - Front USD air fork, adjustable rebound & preload. Rear shock, preload adjustable & oil dampened
Bike Weight - 37.2kg (81.99lbs)
Brakes - 160mm front & rear hydraulic disc
Motor - 1400W 48V OSET neodymium magnet DC motor
Controller - 48V OSET with thermal cut out, adjustable for power, speed & response
Batteries - 1 x OSET 20Ah 48V Lithium battery with charging, discharging & diagnostic ports
Charger - 3 amp 48V, Lithium Ion
Age Range - All ages including adult
Rider Weight Limit - - 198 lbs (90.0kg)
RRP - Sale price - £2,499.00 (sale price only available from UK dealers - Price from OSET importers will vary)
Find your nearest dealer
OSET Worldwide
Would you prefer to view a localised version of our site?
When you choose this option, you agree that we can place a small cookie on your device, to determine your choice at a later date, no personally identifiable data is stored.
Or you can view our full list of importers here
Global Importers
or click below to